Update Ltd.

ECAL / 2018
Context: Bachelor Graduation Project
Photography: Julien Deceroi︎︎︎, Julien Chaintreau


Every year, millions of shoes are thrown away. Most of them are slightly damaged, they are fundamentally still wearable but there is no way to repair them. This issue about global obsolescence became mental and led me to engage in a project that would reconsider sustainability in footwear.
I designed Update Ltd. a footwear that combines the aesthetic and the technology of a modern sneaker to the durability of a classic leather shoe. The sewing-based construction enables the shoe to be easily repaired, simultaneously linking shoe wearers with local cobblers: a craftsmanship that is slowly fading away.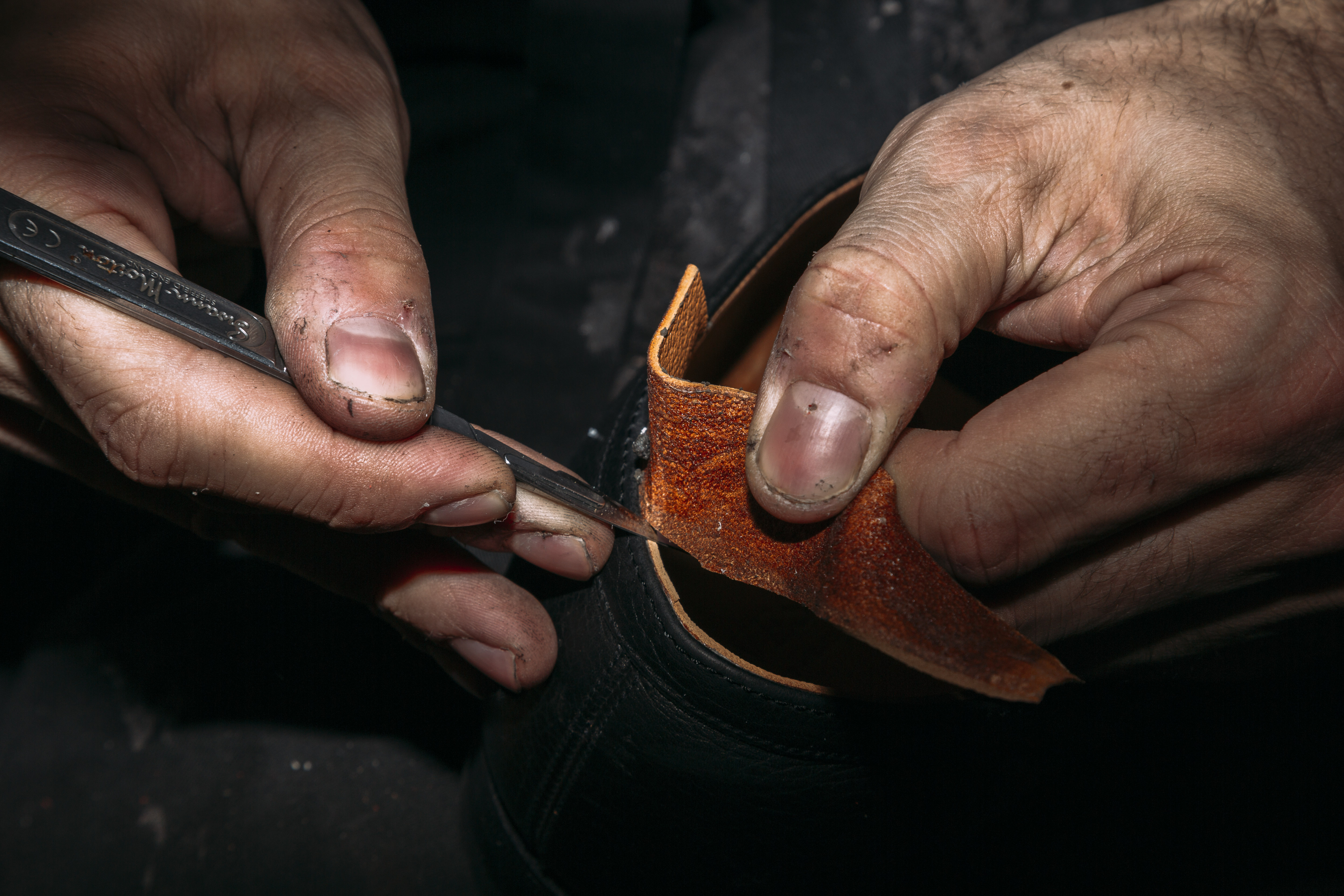 Sneakers are made of several materials, assembled together with duroplast cements. It involves an inseparable blend between materials which have different properties. Their union is irreversible, so the chances for recycling these materials separately is extremely limited.
As an answer to this issue, I got inspired by traditionnal shoe assembly coupled with the innovation and the technical expectations of a modern sneaker. My goal was to create a sneaker where certain patterns are replaceable after being worn in order to lengthen the lifetime of the shoes.

I focused my research on analysing the Goodyear and the Norwegian Welt which are commonly employed in the leather shoe industry. Adapting these traditional techniques to my concept, I enabled my shoe to be repaired by a large range of cobbler with the advantage of using the tools already existing in their workshop.





After a thorough study about sneaker construction, dissecting several worn out shoes, I was able to define which areas needed reinforcement. I experimented various ways of fixing these zones using glue and sewing. Besides, I experimented with the sewing machine, using zig-zag and overlock points as well as playing with the stitching lenght. It later enabled me to create an innovative lacing system.
For the sole unit, I looked into a way to easily separate the different parts that compose a bottom unit. I chose to split it in two parts, where a stiff outer part would directly be stitched to the upper and an inner part would be more cushioned and eventually be adapted to the user.





The leather patterns are direcly stitched to the sole creating this atypic shape with this strip all around. It had to be large enough to be sewn properly to the several upper patterns without creating inconvenience while walking. To bring maximum foot support with the lacing system, I chose to make it run under the sole for an optimal connection between the bottom unit and the upper.





10 main parts are necessary to build the Model ONE. Each of them is assembled by stitching the piece itself. In the end, this sneaker can be repaired at 80%. In fact, the only part that is not removable is the upper vamp that must always be fixed to the sole.
The stitching design indicates which parts are removable. Each zig-zag stitch can be cut, as well as the straight stitch on the sole.

This project was developped during my BA graduation at ECAL in 2018. It was since presented in several sneaker exhibitions including Playground at MADD Bordeaux (FR) in 2020 and Sneakers Collab at MUDAC, Lausanne (CH) in 2019.


Acknowledgments:
- Yohan Seror, Cordonnerie Serror, Genève (CH)
- Adrien Coste, Cordonnerie Serror, Genève (CH)
- Laurent Hoffmann, NUMO Systems, Zürich (CH)
- Thilo Brunner, On Running, Zürich (CH)
- Christophe Gubéran, ECAL+MIT (CH) (USA)
- Thierry Rasonaivo, Paris (FR)
- Max Limol, Sneakers Culture, Paris (FR)
- François Ménès, Pentaform, London (UK)




---
Adidas Academy

Open Call / 2019
Medium: 3D Modeling (Rhino) & Rendering (Keyshot)


For the Adidas Design Academy 2019, the brief requested to design two distinct footwear concept. I decided to link both shoes to a specific running segment. I instantly reached out to my friend Bastien Mouthon which is a former Swiss Olympic athlete. Reflecting together about his technical needs & aesthetical taste, I designed the two following shoes for the specification of Bastien.


Concept 1: Distance Running Shoes

The primarly focus was to investigate support and cushion while keeping a sleek silhouette. A full lenght lacing system provides an adapted support for each part of the shoe while tighting up the laces. Bastien was also demanding to have a harder cushion so I added an stronger EVA foam layer above Adidas' Boost TPU foam.





Concept 2: Track spikes

I looked into reducing overall weight, as well as building a seamless upper with no tongue. I imagined a complete 2 piece upper vamp that would integrate padding & flexibility on the top of the foot. Bastien was also demanding to avoid friction in the heel with keeping a locked feeling with his shoe, so I created a full lenght support pattern to secure the foot from heel to forefoot.


---
On Running - Cloudtrax


On Running / Released in June 2022
Context: Internship at On Running
Photography: Thibaut Grevet︎︎︎


While working at On Running, I was given the opportunity to work on a new silhouette: The On Cloudtrax.
This model is a hiking sneaker targeted towards a young public eager to reach the outdoors anytime. With this silhouette, I was seeking for a shoe that is technically and visually efficient for hiking but with a refined design that simultaneously allowed to be worn in the city, adopting the current outdoor look.

Together with the On creative footwear team, the aim was also to propose an original take on material compositions commonly employed at On.

Contributors:
- Thilo Alex Brunner (Art Direction)
- Olli Hirvonen (Design Lead)
- Nils Ferber (Associate Designer)
- Sebastian Hage (Product Development)
- Oliver Whitworth (Product Development)
- Jeanne Siffert (CMF)





These images below present the behind the scenes and prototyping that I conducted to come up to the final silhouette. I first decided to propose a low-cut and a mid-cut version which adapt to different types of situations. The idea of the Boomerang is characteristic to this shoe and was kept on both proposals. This element works as a visual cue that reinforces the feeling of locking and support connecting the underfoot to the laces while simultaneously bringing a new dynamic to the general aesthetic.



---
NeoVernacular Footwear

DAE / 2022
Context: Masters Graduation Project
Photography: Julien Chaintreau
Video: Julien Deceroi︎︎︎

In today's dislocated global market, populated by an abundance of high-tech sneakers, I am willing to highlight the responsibility that individuals share when purchasing a new pair of shoes. For this project, I developped a nomadic shoemaking workshop intended at sparking appropriation. The Neo-Vernacular Footwear platform aims at transmitting a possibility to craft moccasins in an accessible way by manipulating specifically hacked kitchenware tools to process local resources.
Without any distance between maker and wearer, the Moc-toe and its production-line return to the vernacular principles of the rudimentary leather silhouette native to North America. Even without the need for prior crafts skills, easily available tools and resources make it possible for individuals to physically re-engage in the fabrication of their own shoes and take agency on their consumption behaviour.





The project was articulated considering that Moccasins used to be made and worn by the same individuals a couple centuries ago. Yet, within the present industrialized landscape, finding local resources that are easy to process for making shoes is rather challenging. Nevertheless, I felt that I had to explore the potential materials available, nearby Eindhoven (NL) to look for sustainable alternatives.
Foraging my surroundings for the purpose of this research, I recorded the outcome with a short video that I called Quête Matérielle Chaussure . I was able to find a myriad of waste which was suited to build a rudimentary shoe. In the end I built a Moccasin out of tarpaulin, different kitchen textiles, window blind rope and a carpet for the sole unit.





After building up the previous Moc-toe out of waste, my aim was to develop a system that could be truly sustainable and spark for individual appropriation within different locations. Vernacularity is the physical manifestation that differenciates communities in their act of sustaining their needs by utilizing only local resources, eventually forging an original range of territorial and cultural artifacts.
In an industrialized context, this approach remained under-explored yet. This project must be seen as the modern renactment of vernacularity.





Inspired by the kitchen environment, I picked a waffle maker with removable iron plates and replaced them with my own bottom unit tooling. I embarked on a journey for building these tooling plates, reaching out to a local metal foundry called MAKE Eindhoven︎︎︎, where I casted them in aluminum. I could later form the midsole out of cork and the outsole out of grinded inner-tubes that I sourced from Decathlon's trash. Concerning the upper, I looked into seveal youtube tutorials about die-cutting. After couple of tests, I designed my own die-cut while introducing a different user experience that calls on the body weight to entirely cut all the leather patterns at once.

Seeking to promote co-creation of such a consumer product in order to reconnect individuals with their own territory, I decided to create a physical platform. Apprehending manufacturing from a more relaxed and playful perspective, l elaborated a set of tools where the body itself would contribute in processing these materials divided into 4 separate workstations.





Acknowledgments:

- Matteo Bellentani, Head of Design at Clarks Originals
- Martin Sallières, Senior FW designer at Sunnei
- MAKE, Metal Foundry in Eindhoven
- Metal-Line B.V. Cutting blades
- Clément Toumire, Friend & Support
- Dylan Akono, Cork Sourcing
- Nico Neves, Starring



---
Buckle Design

Birkenstock / January 2023
Context: Case study for a job application
Medium: 3D Modeling (Rhino), Rendering (Keyshot), Integration (Photoshop)


I was asked by Birkenstock to propose an original buckle for a potential new footwear silhouette. I started by gathering inspiration images of designs, systems, references from the outdoor world that I found to be relevant for the brief. You can instantly cease a rather outdoor / technical / precision touch in my inspiration, echoing to the intention of pushing the limits of what the German label is famous for: Orthopedics & Footwear.

Inspiration board





Massively inspired by outdoor and climbing buckles, my designs are meant to be adapted to Birkenstock1774 footwear signature lines. I proposed 3 variation around the technical buckle acknowledging the efficiency and beauty of these technical systems while being redesigned to fit existing silhouettes. The idea is also to respect materiality without adding any permanent assemblies in order to enventually recycle the several materials present on the shoe.

Version 1: 20mm G-Buckle




Version 2: 20mm B-Buckle





Version 3: 20mm frameBuckle

---